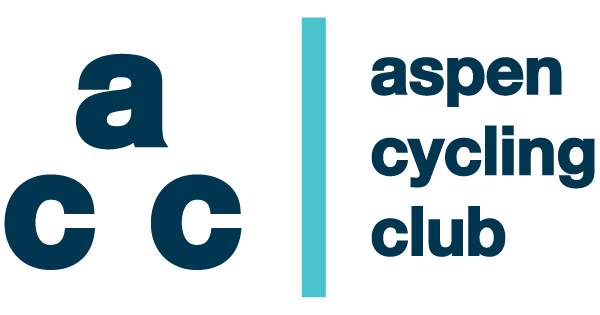 Hello cyclists!
At long last, I'm excited to announce the Aspen Cycling Club's 2021 Rapha Race Series! It's been a challenging past year, and we can't wait to get back to bike racing in the Roaring Fork Valley.
---
As a kick-off to the season, we will be hosting a non-competitive group ride on Sunday, May 23. Find more information here!
---
Rapha Race Series
The first thing you've probably noticed is this season's title sponsor. We're thrilled that Rapha is not only opening a pop-up shop in Aspen this summer, but they're also generously supporting the local cycling community in the Roaring Fork Valley through their sponsorship of the ACC. Please visit their shop this summer, say hello, and stay tuned for more information about our partnership.
New Website
Secondly, we're proud to launch an all-new ACC website this season. It includes general updates, as well as a forthcoming all-online registration system that will streamline the membership and race entry process (opening May 17).
Matching Campaign
Along with our new website, we are also launching a large-scale fundraising campaign.
With your support, our goal is to raise $30,000 in donations of all sizes before the season-closing banquet on September 15. All donations will be matched by generous supporters of the ACC up to $30,000. Please consider supporting the ACC at whatever level you can.
We are launching this campaign because we need your support to ensure the longevity of accessible bike racing in the Roaring Fork Valley and to expand the club's programming beyond the traditional race series. Moving forward, we aim to increase the ACC's community-building activities for cyclists of all levels, with the ultimate goal of providing people with the skills, knowledge, confidence, and sense of camaraderie that will enable them to reach their cycling goals, whether that means riding 50 miles in a single day on the road or getting on the podium at a competitive mountain bike race.
This fundraising campaign will help fund an endowment to support the hiring in 2022 of a seasonal, full-time Managing Director to handle operations, communications, and administration for the ACC from March until September every year.
This represents a major change in the structure of the ACC, both in terms of staffing and fundraising. For the past three decades, the club has been exclusively run by volunteers with the exception of our race and results directors, who are race-day contractors. This structure has been very demanding of volunteers' time and good will, and, though the ACC has been successful over the years at presenting an amazing race series, this structure has also significantly limited the scope and scale of what could be accomplished by the organization
With an ACC Managing Director starting for the 2022 season, the ACC's board of directors will begin to transition to more of a fundraising and strategic focus with less focus on daily operations.
Racing Season
Now, onto the bike racing!
With COVID restrictions easing and vaccinations increasing, public health administrators are allowing us to return to mass-start racing this season. We will still implement safety protocols at the starting and finishing areas, but the return to mass starts is very exciting and we can't wait to get back on some of our most beloved race courses.
Registration will open on Monday, May 17 and racing will begin on May 26 with the Lower River Road Time Trial. See the full calendar here.
This season is starting three weeks later than normal, and we have not scheduled any "rain dates" this year, because, even with the improving COVID situation, permitting and scheduling are still more difficult and demanding than in pre-COVID times. If races are rained out this year, they will simply be canceled and not rescheduled. We have also found over the years that May weather is very unpredictable, and consequently have opted for a later start this year to avoid early-season rainouts.
Community Events
In addition to bike racing, we are committed to expanding our non-competitive event offerings, including skills clinics, group rides, course pre-rides, and other events aimed at building community and breaking down barriers to entry into the sport of cycling.
Along these lines, thank you to all who responded to our women's cycling survey in April. We received a high level of feedback, and are excited to announce two women's events in June:
Let's go!
Thank you, all, for your patience as we get the 2021 season up and running. We'll see you out there soon!
Andy Ralston
ACC Board President